Introducing Live Trading Alerts
Find exactly the right trade setups at exactly the time you want to find them
Professional Scanning and Alerting Technology for the Retail Trader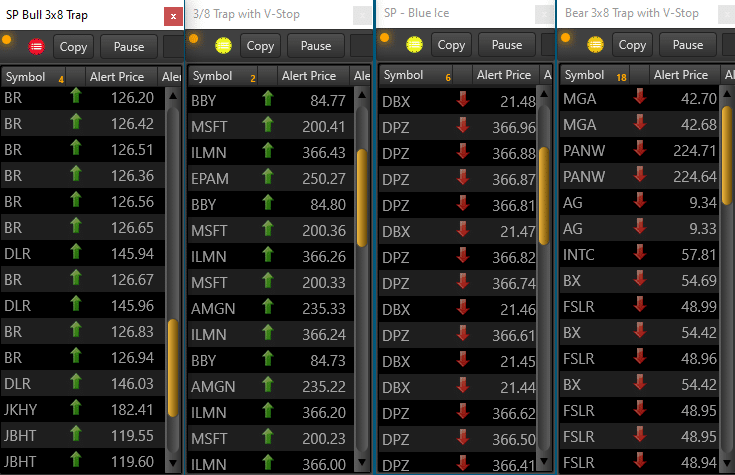 The Scanning Process Simplified
Stream alerts to a maximum of 20 separate alert windows at the same time.  No more sorting through endless lists looking for a trade.  Imagine the efficiency of having potential trades delivered to you automatically and on-time!
Start Finding Your Setups in Seconds
The intuitive interface allows you to identify potentially profitable trades automatically.  Choose from hundreds of proven pre-built scans, or design and customize the parameter's to suit your needs with the click of a few buttons.  Intraday, swing or longer-term the possibilities are virtually limitless.
Choose Your Universe
Choose any of our 13 existing universes or easily build your own list of tickers.

Choose Scan Criteria
Use any combination of our hundreds of pre-built scans, run on any combination of timeframes.   If those millions of potential combinations can't find the EXACT SETUP you are looking to trade, we'll work with you one-on-one and write a custom scan to find your perfect charts.

Choose Your Alert Criteria
Set price ranges or high/low of X candle filters and then choose to be alerted of new highs or lows on a dozen different timeframes.